Regular price
Sale price
$ 90.00
Unit price
per
Sale
Sold out
Sterling revitalizes and comforts skin with a lavish ambrosia of raw honey, botanical oils, and therapeutic earth and sea clays. A gentle cleansing cream infused with colloidal silver.

Deeply nourishing, this creamy emulsion dissolves impurities while drawing hydration into skin and providing an infusion of minerals and enzymes for clarity and softness.
Ritual

Apply an almond size amount onto skin, dampen fingertips and emulsify by massaging in circular motions to thoroughly release debris. Leave on a minute or two before rinsing clear.

Extra Tips: To enjoy as a mask, apply a slightly thicker layer to damp skin and let penetrate for as long as you wish. Sterling is a non-drawing mask - the
longer it stays on, the more hydration is attracted into skin. Mix a teaspoon in when you prepare Onyx Purity Mask for a deliciously over-the-top experience.
Botanical & Vibrational

Raw Honey draws hydration into the skin while active enzymes nourish, brighten, and provide gentle exfoliation.

Dead Sea Mud feeds skin with micro-nutrients not commonly found in other earth clays while pure elemental Silver triggers skin's repair response for increased healing.

Transportive aromatics of Frankincense and Jasmine sambac dance with thecomforting scent of honey and soft clay, encouraging cell health and embracing your skin and spirit in pure earth healing.

Silver is said to be the mirror of the soul. This precious metal is also connected to the moon, the great Mother, and the feminine pulse of yin energy. Silver is reflective, just as the moon reflects the light of the sun, and gently brings the light of awareness into the many facets of one's consciousness.
Ingredients

**Dead sea mud, ***Raw honey, Kaolin clay, **Argania spinosa (argan) oil, *Hamamelis virginiana (witch hazel) hydrosol, Argentum metallicum
(colloidal silver), Salix alba (white willow bark), **Boswellia carteri (frankincense), *Litsea cubeba (may-chang), Jasminum sambac (jasmine), *Cymbopogon martini (palmarosa).

*Certified organic / **Wild-harvested / ***Bee friendly

Housed in biophotonic Miron violet glass. 3.38 oz / 100 ml
Share
View full details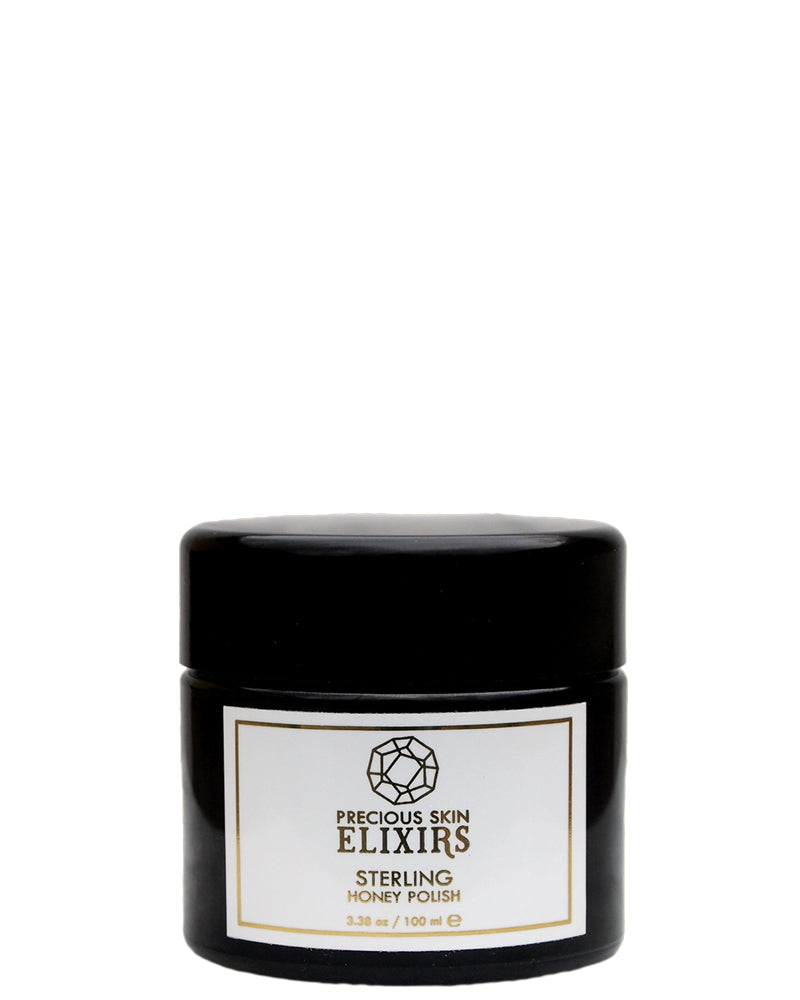 What Customers are Saying
"I fell in love with it the minute I put it on my face. I have mature dry skin. The aroma is out of this world, as jasmine swirls with raw honey and mud from the dead sea to help skin feel balanced, clear, and hydrated through the shifting seasons. Not only is the scent heavenly, but the formulation is also superior. I prefer to use it as a mask and leave it on for 15-30 minutes, then rinse thoroughly with warm water. It is a therapeutic moment that stimulates my mind, body, and enhances my energy" - Donata

"Honey Polish is my favorite face mask. I can't bear to just wash with it and rinse it away immediately after it's on my skin, so I let it sit for a minimum of 5 minutes. Then rinse - and my skin feels so soft and amazing. The scent is absolutely gorgeous." - Beth

""I LOVE it! I use it as a mask and I find it to be helpful in healing spots that I've picked, drawing out impurities, and my skin feels hydrated afterwards (that's a big must-have for me). I'm an esthetician (11 years) and ingredient junkie... I really love how you formulated your line and I think it's wonderful!"  - Stephanie
Frequently Asked Questions
Why does my Sterling Honey Polish look like it has separated or has tiny grains?

Sterling contains raw honey which can crystallize if the
temperature dips low. Just like how raw honey in your pantry can turn from a consistent golden liquid to a chunkier texture if it crystallizes
(usually in colder months). Here's what to do to restore smooth consistency:

1. Place your capped jar of Sterling into an empty heat-proof bowl. Make sure the cap is on well - you don't want any water getting into the jar.

2. Pour hot water (not boiling) into the bowl just to where the top line of the label stops. Avoid getting water near the rim of the jar where it meets the cap.

3. Let your jar sit in the water for about 30 minutes.

4. Remove jar from water and wipe dry before opening. Then, take a clean spoon and gently stir the warmed formula until any crystallization blends back in and all is smooth again.
Regular price

$ 0.00

Sale price

$ 120.00

Unit price

per

Regular price

Sale price

$ 90.00

Unit price

per

Regular price

$ 0.00

Sale price

$ 120.00

Unit price

per