Onyx helps restore your skin's natural clarity and radiance with a powerful blend of purifying minerals and brightening herbs. This facial treatment works to increase circulation and help skin purge occlusions - speeding up blemish healing, quelling inflammation, and rejuvenating underlying connective tissue. Onyx is water activated for a fresh, fully potent experience upon each use. Onyx gem essence helps you ground while clearing unwanted energies and stuck emotions.
Raw Cacao enriches skin with an array of plant nutrients and antioxidants to minimize environmental stressors. Activated Coconut Charcoal, Moroccan Rhassoul Clay, and Multani Mitti Clay draw out impurities from pores and deliver vitalizing minerals that support long-term skin health and firmness. Licorice Root and Lemon Peel brighten and even skin tone while Turmeric Root greatly soothes inflammation and reduces redness. Cinnamon helps speed skin's ability to heal by increasing circulation to the skin and aiding in lymphatic drainage. Ginseng and Gotu Kola triggers skin's natural healing process and accelerates the healing of stubborn blemishes and brightens dark spots.
How to use: With your treatment bowl and brush, activate a tablespoon of powder with about a tablespoon of water and mix into a creamy texture. Pain onto freshly cleansed skin and allow mask dry for optimum drawing effect before rinsing thoroughly. Try rinsing Onyx off in the shower for easiest removal.

Extra Tips: Onyx makes an effective spot treatment for single blemishes, patches of irritation, or areas you wish to brighten up.
Ingredients: Moroccan rhassoul clay, *Theobroma cacao (raw cacao), Multani mitti clay, Active coconut charcoal, *Glycyrrhiza glabra (licorice root), **Althaea officinalis (marshmallow root), *Citrus limonum (lemon peel), *Oatstraw, *Zingiber officinale (ginger root), *Cinnamomum zeylanicum (cinnamon), Ascorbic acid (vitamin c), Sodium bicarbonate, *Curcuma longa (turmeric root), *Centella asiatica (gotu kola), *Eleutherococcus senticosus (ginseng), *Syzygium aromaticum (clove). *certified organic / **wildcrafted
Your daily skin care holds a transformative magic - a gentle return to center that connects you to the true nature of your beauty. Let those moments of touch nourish you fromskin to soul.
Discover your daily beauty ritual with our Skin Rhythm Quiz for product pairings based on your skin's current needs and energetics.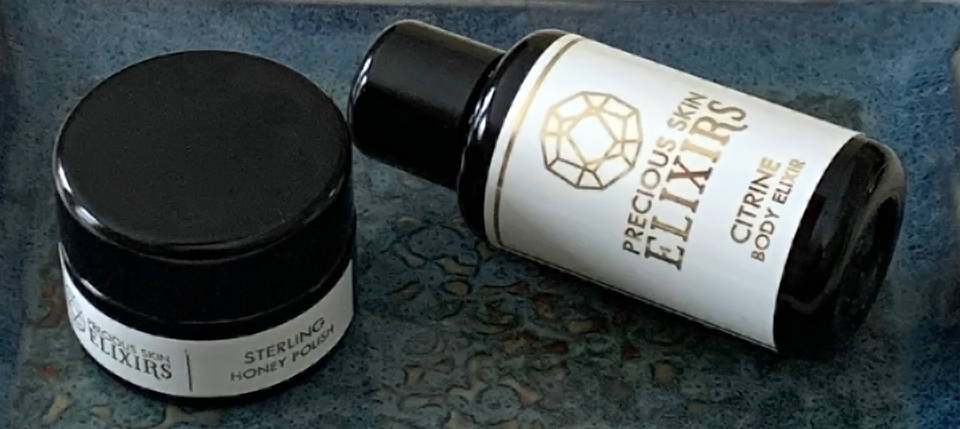 Receive a travel size Citrine Body Elixir with any full size order.

Receive travel sizes of Sterling Honey Polish AND Citrine Body Elixir with your order of $150 or more.*

*Don't wait! These travel size skin care gifts are limited. No code needed - your gift(s) will be automatically included with your qualifying order. Citrine is 30ml / Sterling is 15ml