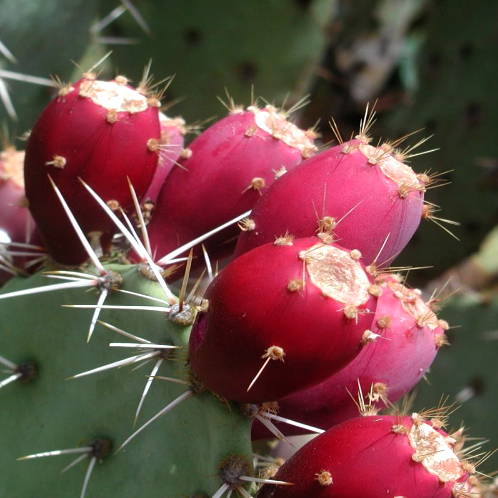 The prickly pear cactus
(botanical name,
Opuntia Ficus Indica
)
grows in many regions, most notably in Morocco where this remarkable plant grows in the wild in semi-arid areas. The prickly pear cactus is also a very sustainable crop and has an incredible ability to survive extreme dry spells while still producing nutritious fruits.
Also know as Barbary fig or Indian fig, prickly pear cactus fruits contain small dark seeds that contain their incredibly healing oil. Obtaining this oil is a labor intensive process which also requires large quantities of prickly pear fruits needed to procure enough seeds, making its oil one of the most expensive in the world. Just one liter of prickly pear seed oil takes roughly one thousand pounds of prickly pears fruits (to yield about one million seeds) and three days of hand labor to cold press each precious drop of oil from the seeds.
Prickly pear seed oil has a rich composition of vitamins, minerals, and antioxidants and is extremely high in essential fatty acids Omega-6 (linoleic acid) and Omega-9 (oleic acid). Brimming with natural vitamins A, C, E, and K, plus minerals such as zinc, copper, mangesium, and potassium, prickly pear seed oil bathes cells in antioxidant-rich moisture that lightens dark spots and reactivates skin's elasticity. Prickly pear seed oil effectively treats hyperpigmentation and melasma spots and strengthens capillaries to minimize spider veins and brighten under-eye shadows.
Each green-gold drop of prickly pear seed oil contains countess antioxidants and flavonoids - all healing plant nutrients that help treat and prevent inflammatory conditions such as acne, psoriasis, eczema, and dermatitis. Prickly pear seed oil has a velvety texture against skin as it delivers moisture and nourishment, protects skin against free radicals, and stimulates collagen production for faster cell regeneration.
You can find prickly pear seed oil in Tourmaline Radiance Elixir.