The HAMSA COLLECTION inspires peace, softness, and tending our inner light to warm our faith in the beauty and goodness in our world.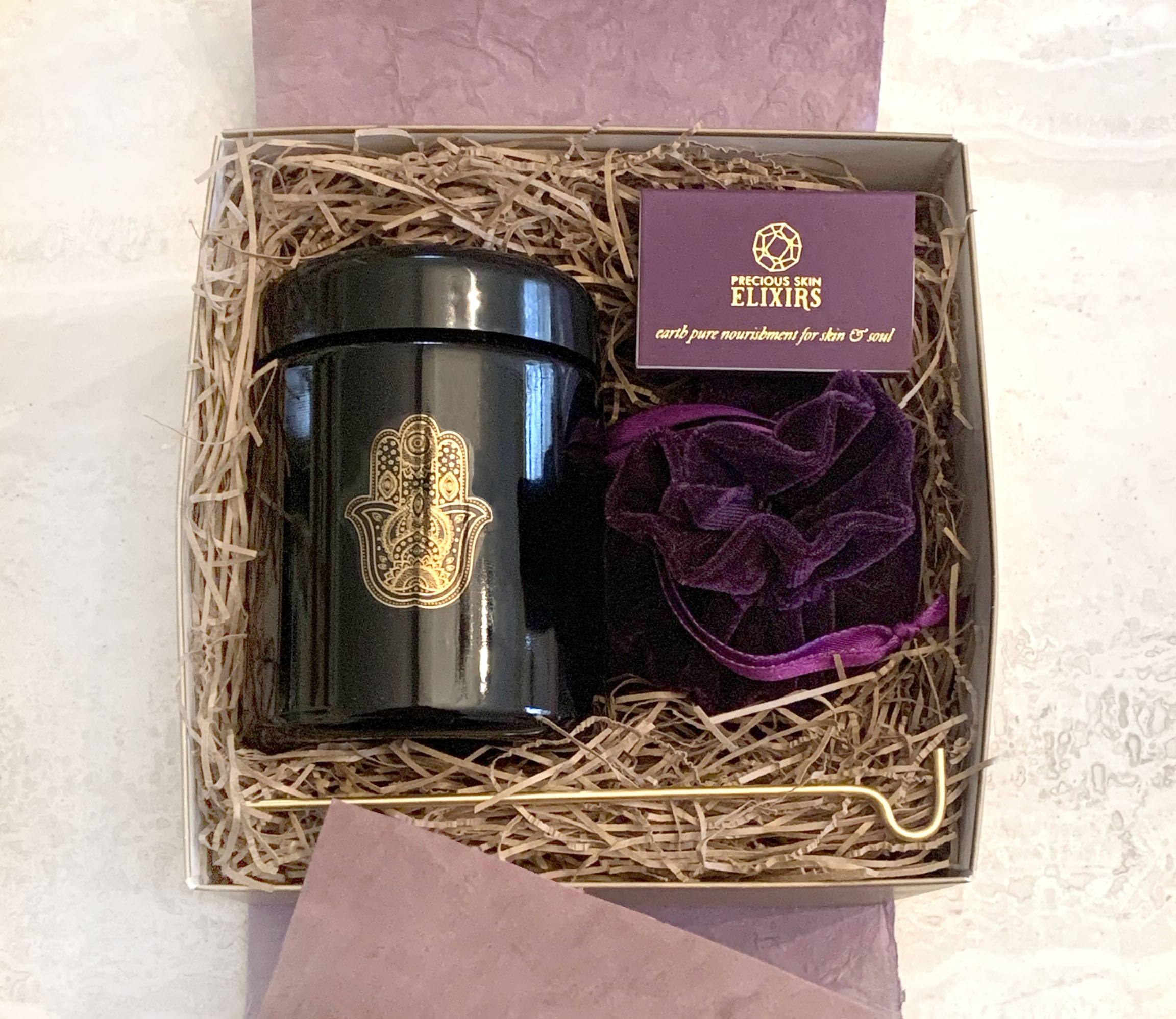 • 8oz Hand-poured beeswax candle in violet glass with 22k gold Hamsa symbol.

• 100ml Jar of our newest potion, Hamsa Botanical Body Balm.
• Handmade Brass wick dipper for extinguishing your candle with zero smoke.
• PSE matchbox.
• Printed cards detailing Hamsa's sacred symbolism, candle care, and balm ingredients... all wrapped up in handmade Tibetan Lokta paper.
Take home the Hamsa Collection while sets last. There are just 18 sets ready to grace your home and the homes of your loved ones.
Sending this as a gift? Just notify us of your gift message in the "notes" field at checkout and we will be sure to include your special note.
The Hamsa symbol of a stylized hand has its origins in ancient Mesopotamia, spanning across many belief systems as a symbol of peace and unity. Represented in various depictions, this emblem is thought to bestow protection to its bearer and serves as a reminder of the powerful pure love that flows through all of life.
I chose the Hamsa name and symbol because I felt it beautifully represents the grace - the warmth and softness - we can each extend to ourselves and each other as we navigate the shifts and tides of life. Hands often symbolize capability, creativity, and human touch and compassion. With the warmth of candlelight to illuminate your inner and outer beauty and the softness of a comforting balm to care for your precious hands and being, let capability, creativity, and compassion be guiding principles as we enter a new year and another turn of the wheel into a new season.
•
Hamsa Botanical Body Balm is a rich balm that cares for your entire body - especially dry hands! This formula delivers intense moisture with a sink-right-in feel and the most delicious fresh ginger and sparkling yuzu citrus scent. Wrap every inch of your skin in Hamsa's comforting velvety blend of restorative botanicals and uplifting aromatics.
Ingredients: **Garcinia indica (kokum) seed butter, *Argana spinosa (argan) oil, *Camellia olifera (camellia) seed oil, *Cucubita pepo (pumpkin) seed oil, Ribes nigrum (black currant) seed oil, Citrus juno (yuzu), *Litsea cubeba, *Zingiber officianle (ginger), *Elettaria cardamomum (cardamom), Kaempferia galanga (ginger lily), *Rosmarinus offinianlis (rosemary).
*certified organic / **wildcrafted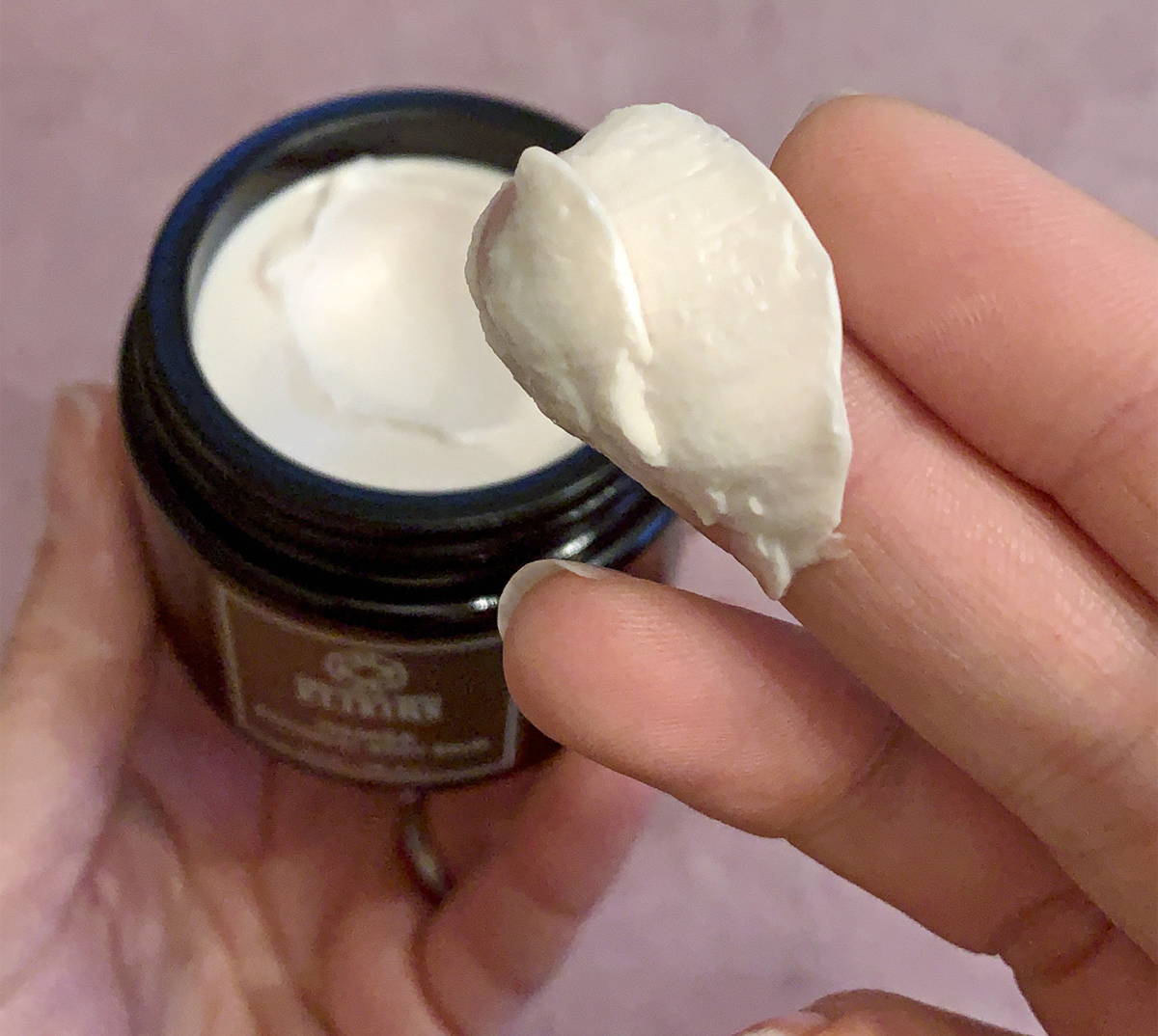 Candle Care & Enjoyment
Each hand poured candle is made of responsibly collected North American beeswax blended with essences of grapefruit and ginger for an earth pure way to enjoy the cozy atmosphere of candlelight.

Beeswax is made from the nectar of flowers and effuses a honeyed sweetness as it burns.
Maximize candle longevity by burning for 2-3 hours upon first light. This allows the wax to melt and flow to the edges of the vessel to ensure even burning each time.
Keep wick trimmed to 1/4" and burn safely for up to 4 hours at a time.
Extinguish flame with ease and zero smoke with the included brass wick dipper. With the hooked end, simply push flame down into wax pool to extinguish and then lift wick upright.
Each 8oz candle gives approximately 30 hours of total burn time.
Always burn candle on a level surface with plenty of space and away from drafts or any flammable materials. Enjoy your candle with care.